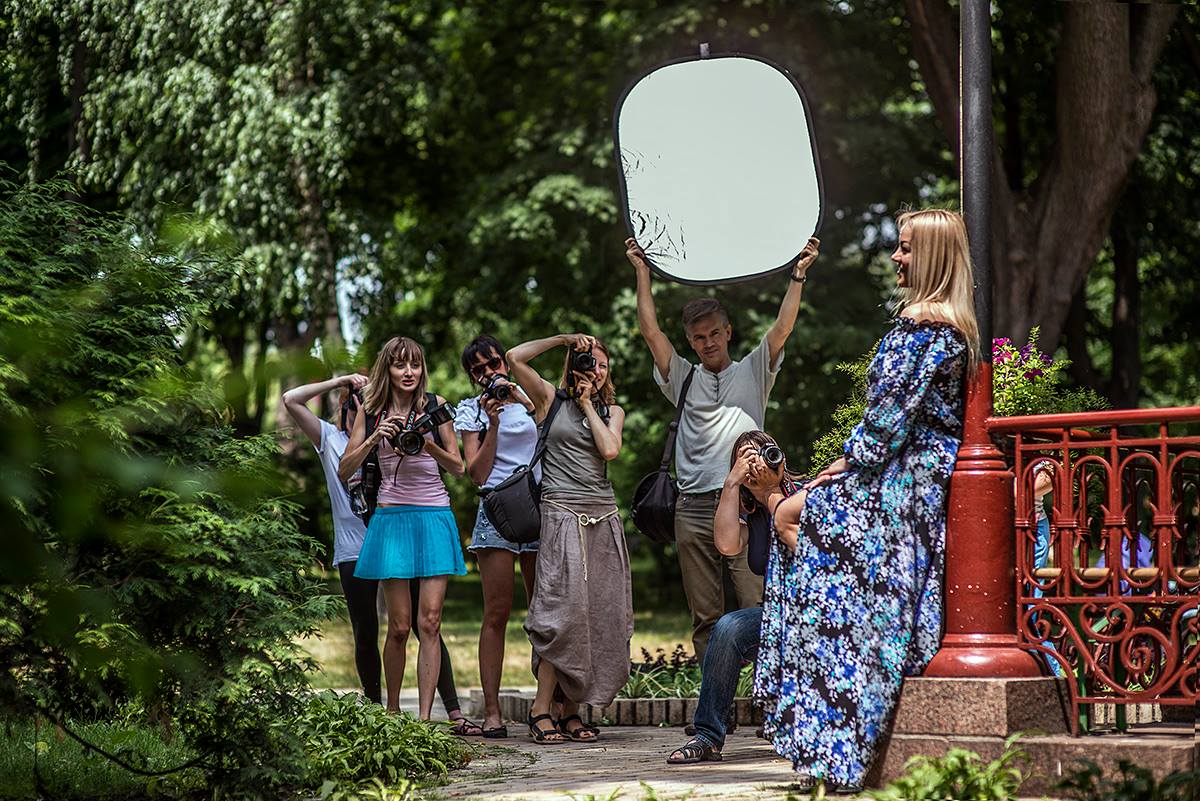 In Kyiv there are a lot of schools of photography, but not all of them teach high quality. Our team is constantly working on improving the school. If you want to be a professional photographer, our school will help you to achieve your goal. We have ready-made photo lessons for beginners and professional photographers alike, who wish to improve their skills or refresh them after some time spent without practice.
Improve your skills with us! We guarantee that in 10 lessons of 2.5 hours each you will learn how to operate modern photo equipment quickly and easily, so that you can shoot impressive photos at any event. Agenda includes photo shooting, practical lessons (master class), discussions with one or several professors and exchange experience with other students. The main advantage, in our view, is that training will be held in the center of Kyiv.
Just try our well known four-week course of photography skills and tricks! It will provide you with all the necessary knowledge and skills for mastering photography.
Learn how to become not only a good amateur photographer but also master of taking great pictures every time. Our school will show you how it works so that you will never miss this amazing opportunity in your life again!
The benefits of training in our photography school:
A lot of practice, so you will understand, remember, and learn.
You will study photography in modern, comfortable classes in the center of Kiev. You will get your practical lessons in huge, well-equipped studios.
Our photo school is the biggest school in Ukraine – It is about 500 sq.m. of Art-Space
Easily accessible, because the school is in the city center. Five minutes from the subway station "Olympic"
Take a rest and drink tea in our coffee-room. You may charge gadgets or enter free wi-fi  
Photography is a highly rewarding hobby, whether you are looking to take better family photos or want to become a professional. We have invested a lot in developing our advanced course, which includes all the hacks, secrets, and tips that professional photographers use!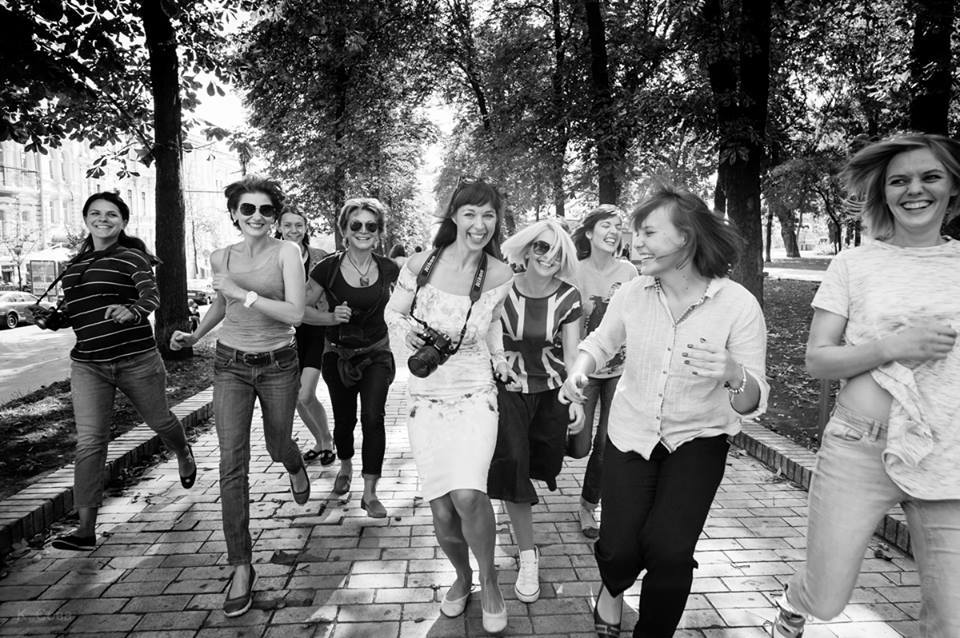 Lesson 1. Light: staging and control.
Main light sources: painting, filling, backing, background.
Selection and installation of light sources depending on the purpose of shooting.
Light shaping attachments and passive light sources.
Practical part: Working with a non-professional model, studio shooting: selection of light taking into account the image of the model.
Lesson 2. Technique of interaction with a model.
Cropping portraits.
Means of expressiveness in close-up and bust portraits.
Typical errors while working with a model.
Legal aspects of shooting people. Signing a release with a model. 
Rights to use the received photos.
Practical part: selection of a light scheme that matches the desired look of the model.
Lesson 3 . Field practical shooting in natural light.
Analysis and location search. The choice of angles and shooting points, taking into account the specifics of the location.
Determination of exposure parameters in relation to lighting conditions.
Choosing the optimal focal length and building perspective, taking into account the intention of the photographer.
Lesson 4 . B ERNO-white st photograph I, as an artistic device .
When is the color superfluous?
Means of expressiveness of b / w photography: light and shadow, tones and halftones, tone contrast.
Examples and analysis of b / w photographs.
Methods for converting a color image to b / w.
Practical part:  shooting a business portrait.
Lesson 5: A characteristic first male portrait. Low key portrait.

Portrait of a man. Peculiarities. Everything is possible, but ...
We find out the terms of reference. What to shoot and why. What kind of photos does our model like?
We are looking for ideas. Google Image banks. We constantly get acquainted with the works of brilliant portrait painters.
Psychology and directing. A portrait is a dialogue between the photographer and the person being portrayed. Acquaintance as a guarantee of a successful dialogue.
Shooting technologies:
• we find out the working side and the preferred light;
• how to sit down correctly? bad poses and how to find winning angles. Lessons from Ada Rogovtseva.
High key and low key help highlight an important detail.
Outstanding portrait painters of the 20th century. Yusuf Karsh and Robert Mappeltorf. We analyze the approaches of the masters and light schemes.
Practical part:  shooting a characteristic male portrait in a low key. analysis of footage
 Lesson 6 . Family shooting and love story .
Family portrait basics. Family values ​​and ways to convey them in the frame.
Creation of a holistic image. Harmony of composition.
Ways to create mood. Psychological aspects. Creation of the character of the frame. Elements of strengthening.
Choice of angles and poses for several models. Staging rules. Emotional content.
Reportage and staging moment in a family shoot.
Common mistakes when shooting a family (group) portrait.
Lighting rules for dynamic and static scenes.
Practical part: shooting a married couple (or a parent and a child) in a studio environment. Working out the basic schemes of light and the rules for setting models.
Lesson 7 . Self-practice shooting.

Practical part: Setting up a complex lighting scheme, practicing Hollywood light shooting, taking into account the image of the model.
Lesson 8 .  Object shooting. Introduction.

Product photography. Types, goals, features. Still life and photography for catalogs.
Learning from amazon.com
Features of shooting a subject on a white background.
What technique and why do we need it?
Natural light to convey a familiar view of the subject. What it consists of and how to reproduce it in the studio.
Camera settings and photographer culture.
 Practical part: catalog shooting of a subject in a studio on a white background. Analysis of the angle, the location of the key light, the transfer of volume, reflexes and work with shadows. Analysis of errors and simplifications.
Lesson 9 . Methods for getting a strong shot. Author's photobook. 
Three strict judges.
Criteria for a cute, strong and valuable photo
In a photo story, a character is more important than an idea. In a photo project, the idea dominates the hero. 
Project stages: idea - planning - shooting - selection - publication. 
Photo projects of masters of the 20th century. Stefano Andetiner, Bens Mate, Steve McCaa
To create a photo book, you need to download  a cover template ,  a spread template , Cifrolab advertising for a dark or light background .  
The topic of the course project is your value.
Methods for generating ideas. Dynamic meditation. Topic Board. Busen's mental maps. 
Registration form for the defense of a course project.
Lesson 10 . Posing errors. Practical shooting.

Errors in head and neck positioning
Position of the torso, shoulders and elbows
Hands - the second emotional face of the model
Legs and feet. Coordination of all lines of the frame.
Passing a theoretical test for the entire methodology of the course .
Presentation of certificates of completion of the course. 
Individual lesson €80 . Group session - € 480 (min 5 people) 
Call 050 299-0-729 (Julia), or 099 227-4-226 (Dmitry) for more information